personal training, physical therapy, & nutrition services in birmingham, al
Evaluation
Your personal fitness journey
with
EIM
begins with a thorough assessment of
your health, fitness level, and history.
Your personal trainer
may consult with your physician to ensure your safety and design
your customized workout plan.
We will assess your current fitness level and take measurements to help monitor your progress. Periodic evaluations are
available by appointment.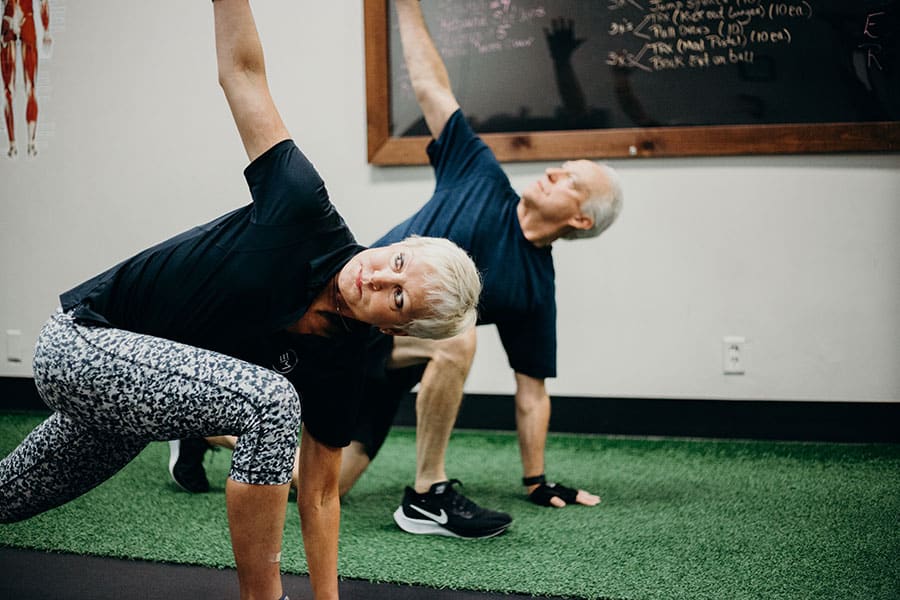 Semi Private
These small-group workouts take place two or three days a week in 30- or 60-minute sessions. Each participant follows their own exercise routine as designed by their personal trainer. The trainer manages the session and guides each client with personal attention throughout the workout.
Initial 1-Hour Physical Therapy Evaluation
In depth evaluation of your injury/condition including a whole body biomechanics screening. 

Therapeutic exercise and mobility prescription along with soft tissue mobilization.

Plan of care created around your specific goals.
Follow-Ups
Hour follow up sessions, typically 2-3 times per week for 2-6 weeks depending on the nature of injury.

Progression to full return of function and living pain free!

Evaluate progress, update goals, focus on improving function and long term success.
Full Rehabilitation Package  
Initial evaluation and 10 follow up visits.  

Recommended for those looking for long term resolution of symptoms.

Transition from rehabilitation to long term health and wellness.
Health Maintenance Program
Health and wellness training with an emphasis on improving your daily function and biomechanics for long term health.

Recommended for those who have an extended history of joint pain, postural issues, or health conditions limiting their daily function.  

Combination of rehabilitation style treatments with personal training and wellness coaching for a holistic approach to maximizing health and fitness for pain free living.  
Initial 1-Hour Assessment 
Review of current nutrition, physical activity, medical, and diet history 

Assessment of 3-Day Food Diary 

Discussion and development of nutrition goals and client expectations 
Follow-Up 
30-minute consultation, typically every 2-4 weeks after initial assessment 

Reaching goals is a process! 

Reevaluate goals, discuss progress, focus on other nutritional concerns you may have, and more.
Three Month Package 
Initial Assessment and Five Follow-Ups 

Appointments every 2 weeks over the course of 3 months 

Recommended for those looking for sustainable results
Three Follow-Up Package 
Three 30-minute follow-ups 

Beneficial for those looking for continued support from a Registered Dietitian 
Grocery Store Tour and Pantry Makeover
Grocery Store Tours 
Tour of a local grocery store in metro Birmingham

Includes healthy grocery shopping tips, how to read nutrition facts labels, and

more 
Pantry Makeovers 
Together we look through your pantry, fridge, and freezer to discuss how to

read nutrition labels, ways to swap products out for healthier options, and more 
Cancellation Policy
All cancellations must be made within a minimum of 24 hours advance notice to receive credit for the session.